So- after 10 plus years of making wedding flowers- it is now my turn…. So what on earth will I make for my wedding?
Make your own I hear you ask? – yes indeed – I would be an ACTUAL nightmare to any flowery friend to give them the mammoth task of making the flowers for my wedding… currently I feel pretty calm… ask me the first week of July if this is in fact a good idea!!
We have chosen a venue that gives us lots of time before the big day itself to decorate (this was on my mind as he dusted off his knee after the proposal I might add… how can I possibly make all of my flowers????? was thought number one after the initial shock of being asked).
Hillfields Farm if you haven't heard – is a little gem tucked away in the Lower Basildon/Streatley borders. All will be go go go once the keys are in my hands.
So flowers….. as a rough estimate – I have tackled maybe 500 weddings owning Croppers in Bloom – possibly double that in various guises of freelancing or working for others…. So what will I be choosing?
One wedding from September 2017 really sticks in my mind – beautiful creams and grey foliages. Astilbe, astrantia, "Alabaster" garden roses, dahlias,freesia, veronica, lissianthus, three different kinds of eucalyptus,and just divine trailing ribbons to match.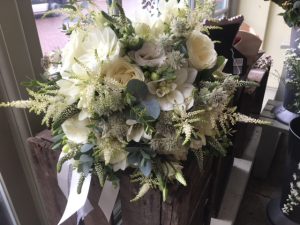 Another – from the June 2018 – coral peonies, "Blackberry Scoop" scabious, fountain grass,red astilbe, pink phlox, plum astrantia and various deep burgundy grasses…. It really popped.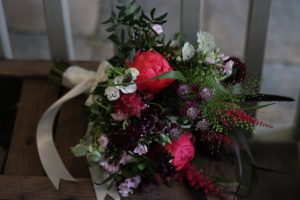 Another stunner – this time Quicksand roses, green lissianthus, three different kinds of eucalyptus, white hydrangeas and freesia………… I liked it so much its now on my wedding fair flyers center stage…..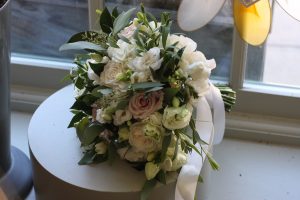 One other stand out wedding from last year – an exotic mix of protea, calla lilies, grevillea foliage amongst gardeny delights of antirrhinum,chrysanthemum blooms, scabious seed heads, astilbe and stocks? Something that I really really liked – mainly down to the bold mix of colour and texture…. Also the fact that the bride had AMAZING taste in everything… venue, dress, flowers- all venue styling looked FAB!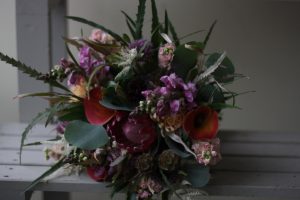 The long and short of it is… I love flowers…. all of them….. some more so than others…… but I can't possibly have them all.